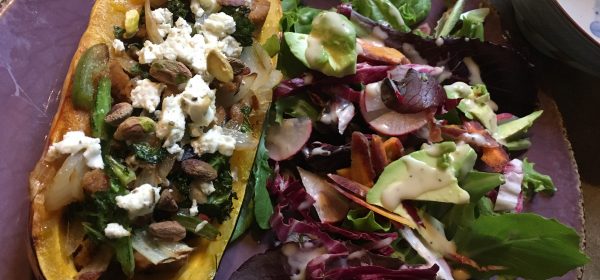 Every so often, fans of Living Nutz send us recipes in which they use our product. This stuffed delicata squash looks delicious.  In addition to being delicious, winter squash is an excellent source of immune-supportive vitamin A and free radical-scavenging vit. C.
Stuffed Delicata recipe (2 servings)
1 Med-Large Delicata
1 Onion
1  small red or green pepper
1 clove garlic
(or add your favorites- like mushroom, etc)
1/3 cup goat cheese
Handful of pistachios (raw or sprouted)
Heat oven to 420 degrees, Split delicata in half the long way and remove seeds. Oil bottom of a baking pan and put squash flesh side down. Bake 20-25 min or until soft.
Saute the veggies you choose in a pan. When delicata is done baking, put sauteed veggies in the hollow area and top with goat cheese or your favorite cheese and heat in oven until warmed (about 3-5 minutes). Top with pistachio or your favorite nut.
Simple and sooo good…enjoy!