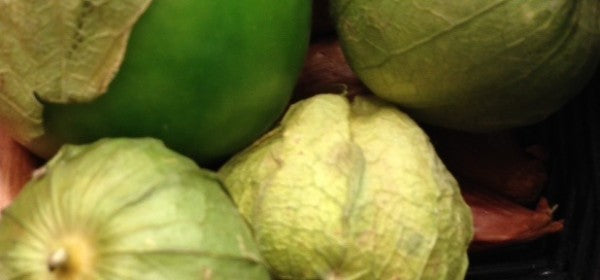 This easy recipe with the added benefits of pine nuts is delicious.  You can make it mild by adding less jalapeno. Instead of pine nuts, you can add our Garlic-onion flavored pistachios for a nice crunch.
TOMATILLO RAW NUT SALSA
4 -6 medium tomatillos, husked, rinsed and quartered
1 large garlic clove, peeled and quartered
1 jalapeno stemmed and roughly chopped
Fresh lime juice from ½ lime
1/2 to 2/3 cup roughly chopped cilantro
Salt
Handful of pine nuts
Combine tomatillos, garlic, jalapeno, lime juice & cilantro in a blender or food processor. Add about 1/8 cup water to thin and 1/2 teaspoon sea salt. Process to a coarse puree. Pour into a small bowl and thin again, if needed, with a little more water. Add pine nuts. Taste and season with additional salt, or lime juice if desired. Serve right away.