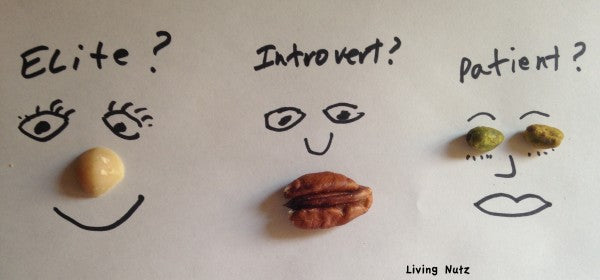 If you are looking for hard core science or well researched human behavior in this personality – nut type then go no further. However one person's imagination got the better of her and we thought we would share as Living Nutz folks, well- we take humor where we can find it.
If your favorite nut is…

Macadamia – You are living a high end lifestyle and you have champagne taste. Your friends may accuse you of being a snob, but deep down, you have a heart of gold.

Peanut – You are a little bit boring, and you know it, but you are ok with that. Your motto is, "I'm just trying to get through the day." You love animals and are very loyal to your friends.

Honey Roasted Peanut – You like to get dressed up and go out on the town! You are the life of the party and appearance is very important to you. All your friends come to you for advice on fashion and image.

Coconut – You speak in disjointed sentences, you use the word "dude" a lot, your favorite shirts are tie-dyed and you like to smoke the ganja, whatever that is.

Pistachio – You have a strong work ethic. You know what you want and you don't stop until you get it! Although you may think you don't have much patience, you have more than you realize.

Walnut – You are stuffy, conservative, and probably really old. Your career is most likely that of a judge or attorney, and you only wear plaid flannel to bed.

Almond – You are sleek, smooth and sexy. You are on top of your game and enjoying life. Other people are naturally drawn to you. You love to flirt and have a good time.

Hazelnut – You are creative and have innovative ideas. You like to stay up all night and you drink a lot of tea or coffee. You march to the beat of a different drum, and people look up to you for it.

Chestnut – You love the holidays and winter is your favorite season. You love to roast.. err.. sit by an open fire. You are very friendly and all your friends love you and support you.

Pine Nuts – You are a world traveler and you like to eat exotic food. You prefer a warm climate and family is the most important thing in the world to you.

Update added 1/7/10: How could I forget the cashew and the Brazil nut? They are the biggest baddest nuts of them all. If your favorite nut is one of these, according to the comments below, you are the Alpha nut. You are probably a natural leader and people look to you for guidance. I gotta go get some cashews right now…
We would like to add:
Pecan – You tend to be a home-body, enjoying the simple pleasures of everyday living.
Thanks to the wild imagination of: http://www.bitrebels.com/lifestyle/nut-personalities-which-nut-are-you/